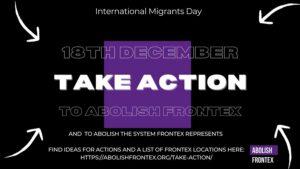 On Saturday 18 December, International Migrants Day, across Europe and beyond there will be actions to #AbolishFrontex and the EU border regime. 
Join one of the actions on the list of below or organise your own! 
Find ideas for actions and a list of Frontex locations here. Send us a mail [to: info@abolishfrontex.org] if you organise something or if you want to support the campaign as an organisation/group.
Austria
Vienna: Platz Der Menschenrechte, 13-17h – Manifestation, with film screening, speeches and a 'wall of shame' about pushbacks.
Belgium
Brussels: Rond-Point Robert Schuman (starting point), 13-17h – Demonstration with actions, passing by Frontex, EU institutions, arms companies and embassies to the church "Béguinage" where there was an occupation by undocumented people who were on hunger strike in spring.
France
Dunkirk: Gare de Dunkerque, 14h – Demonstration in support of exiled people, demanding emergency reception centers, housing and accommodation.
Germany
Berlin: Bernauer Straße/Ackerstraße (Antreteplatz), 12h – Demonstration 'Abolish Frontex', ends at 15h30 at Washingtonplatz with music.
Greece
Chania (Crete): Agora Square, 12h – Demonstration in solidarity with refugees.
Chios (North Aegean): Chios Town,  11h – #StopPushbacks protest
Italy
Catania: Piazza Maravigna, 16h – Manifestation 'No a Frontex: Fermiamo i naufragi ed i respingimenti' in front of the Frontex office.
Cosenza: Loc. Pedace, Casali del Manco, 11h – Sit-in 'Abolish Frontex' in front of the Biblioteca delle donne Bruzie.
Milan: Piazza Mercanti – Distribution of flyers, informing people, connection with activist that went to the Polish borders. 
Naples: Piazza del Plebiscito, 16h – Manifestation 'Abolish Frontex'.
Palermo: Piazza Vigliena-Quattro Canti, 16h – Manifestation against the situation of refugees in Lybia and the EU migration policies. With live connection with the action in Cantania. 
Pescara: Piazza Salotto, 17h – 'Abolish Frontex' meeting with images from European borders, voices from the refugee camps.
Rome: Spazio Anarchico "Vettor Fausto", 19h – Meeting with screening of screening of the film "When you are born you can no longer hide" by M.T. Giordana and debate.
Turin: Tuesday 14 December, Polytechnic University, 13:30h: Action against its contract with Frontex for creating maps.
Morocco
Netherlands
Amsterdam: Dam Square, 14-16h – Flyer action in solidarity with Refugees in Libya.
Spain
Madrid: Plaza de Juan Goytisolo, 12h – Performance 'Europa, Tus Fronteras Matan'.
Switzerland
Ongoing actions and other activities as part of the campaign to hold a referendum on Switzerland's support for Frontex.
Basel: Theaterplatz, 16h – Demonstration 'Nieder mit der EU-Aussengrenze! Gegen die Gleichgültigkeit!'.