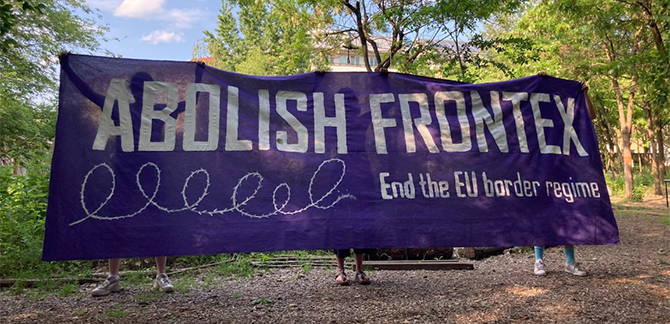 Over 44.764 people have died trying to reach Fortress Europe. In Tripoli, nearly 3000 refugees are protesting outside the UNHCR headquarters following the mass detention of 5000 people and the death of six people in early October. Thousands of people are currently stuck and facing violence at the Polish-Belarus border and are being pushed back into Belarus. Journalists and human rights workers are being kept out of the border are which has become a militarised zone under a state of emergency.
---
Il 18 dicembre – Giornata internazionale dei migranti -, agisci per #AbolireFrontex e per porre fine al regime di confine dell'UE.
Oltre 44.764 persone sono morte nel tentativo di raggiungere la Fortezza Europa. A Tripoli, quasi 3000 rifugiati stanno protestando davanti alla sede dell'UNHCR dopo la detenzione di massa di 5000 persone e la morte di sei persone all'inizio div ottobre. Migliaia di persone sono attualmente bloccate e stanno subendo violenze al confine polacco-bielorusso e vengono respinte in Bielorussia. Giornalisti e operatori dei diritti umani vengono tenuti fuori dal confine, che è diventato una zona militarizzata in stato di emergenza.
Qual'è la risposta degli Stati membri dell'UE e delle sue istituzioni?
La Polonia ha dispiegato oltre 12.000 guardie al confine con la Bielorussia e sta costruendo un muro al confine, così come la Lituania e la Lettonia. 32 anni dopo la caduta del muro di Berlino, la Germania chiede all'UE di aiutare la Polonia a "mettere in sicurezza le proprie frontiere esterne".
Frontex continua a collaborare con la cosiddetta "guardia costiera" libica per costringere le persone a tornare in Libia dove subiscono torture e altre gravi violazioni dei diritti umani.
Nell'ambito dei suoi sforzi di esternalizzazione delle frontiere, l'UE esercita forti pressioni sui paesi terzi affinché agiscano come avamposti delle guardie di frontiera. I massimi funzionari dell'UE visitano paesi come Armenia, Egitto, Iraq, Giordania, Libano, Turchia e Emirati Arabi Uniti per chiedere di interrompere i voli per la Bielorussia.
Frontex sta costruendo una propria forza paramilitare di polizia di frontiera (Corpo permanente della guardia di frontiera) di 10.000 persone, che è già stata dispiegata in Italia, Grecia, Spagna, Balcani occidentali, Lituania e Lettonia. Frontex ha recentemente assegnato un contratto alla società di armi austriaca Glock per la fornitura di armi da fuoco a questo corpo.
Alimentando conflitti, ingiustizie e cambiamenti climatici e incoraggiando il commercio di armi, l'UE è una delle cause per cui le persone sono costrette a lasciare le proprie case. Allo stesso tempo, l'UE e i suoi Stati membri militarizzano i propri confini e conducono respingimenti illegali.
Le politiche di confine dell'UE sono intrinsecamente razziste e rafforzano le strutture di potere coloniali e capitaliste. Nessuno è illegale. Tutti dovrebbero essere liberi di muoversi e vivere.
Il 18 dicembre, agisci per abolire Frontex e il sistema che rappresenta. Trova idee per azioni e un elenco di sedi Frontex qui: https://abolishfrontex.org/take-action/
---
Les politiques frontalières de l'UE sont racistes par essence, et renforcent les structures de pouvoir coloniales et capitalistes. Personne n'est illégal·e. Tout le monde devrait être libre de se déplacer et vivre.