Since Russia's full-scale invasion of Ukraine in February 2022, more than 13 million people have been forcibly displaced from their homes in what the United Nations High Commissioner for Refugees called 'the fastest growing refugee crisis in Europe since World War II'. Breaking with a policy of deterring and containing asylum seekers outside its borders, the EU and its member states rightly responded to the flow of people by creating legal pathways that granted Ukrainian nationals protection and legal status within the Union. While these laudable efforts have undoubtedly saved lives, over a year later it is clear that the measures are the exception and not the rule. The EU has used the war in Ukraine to expand its deadly border regime in Eastern Europe, in particular the role of Frontex, doubling its efforts to keep out those fleeing other wars and conflicts. Moreover, Ukraine, which has acted as the EU's border guard for nearly two decades, has continued to play this role even as the war rages on.
This is a slightly modified excerpt of the longread 'How the EU has used the war in Ukraine to expand its border regime' by Mark Akkerman, Niamh Ní Bhriain, and Josephine Valeske, published by the Transnational Institute in June 2023.
From teddy bears to illegal deportations
In early 2022 Frontex launched 'Joint Operation Terra 2022', deploying officers from its newly established standing corps to dozens of border crossings across 12 EU member states. Once the war in Ukraine intensified across the country, the presence of these border officials and the use of aerial surveillance equipment at the EU borders with Ukraine and Russia was expanded, particularly in Estonia, Romania and Slovakia. Following much scrutiny and criticism of its role in illegal deportations in the Aegean Sea, among other human rights violations, the war offered Frontex the opportunity to clean up its image. Photos of Frontex border officials handing out teddy bears to Ukrainian children were shared on the agency's social media accounts, together with commentary about the importance of keeping families united while fleeing war. The agency deployed a selective approach in dealing with those fleeing Ukraine. While Ukrainian nationals were permitted entry to the EU, those from other countries who found themselves in Ukraine when the war broke out faced significant hurdles to secure temporary protection and were offered 'voluntary return', though in many cases returning to their home countries was out of the question.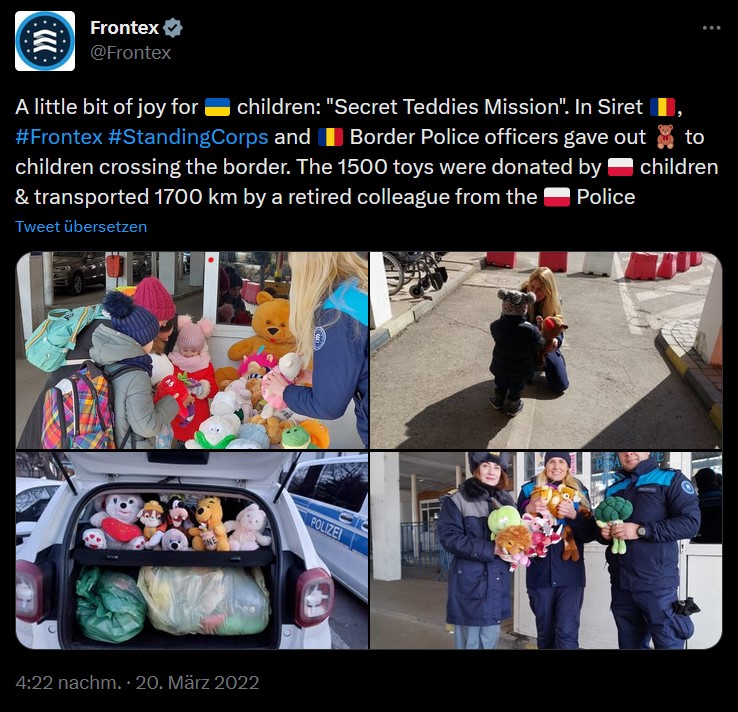 Frontex Twitter post from 20 March 2022
In July 2022 the EU launched its Support Hub for Internal Security and Border Management in Moldova to coordinate its support to the country in light of the Russian invasion of Ukraine. Frontex plays an important role in this context and also concluded its own agreement that saw the deployment of officers and donations of border-security equipment to Moldova to 'support the reception of refugees from Ukraine'. The fine print of the agreement also included strengthening border security and fighting irregular migration. Very quickly this more securitised approach to dealing with those seeking refuge took precedence over providing humanitarian assistance. Over a year on, Frontex is no longer sharing images of its officials handing out cuddly toys to children, but it has reverted to its usual operations, boasting that 'in 2022, joint Frontex and Moldovan border police teams achieved excellent results … record[ing] a 300 percent increase in the detection of irregular migration compared to 2021'.
Though the war in Ukraine continues, the focus of the EU's border policies has centred on securitisation tactics with the original objective behind the recently intensified border collaboration seemingly forgotten. Meanwhile, Frontex has used the war to further extend its operational area beyond the EU's borders. At the end of January 2023, 'Joint Operation Moldova 2023' was launched to 'support national authorities with border surveillance, border checks, but also with gathering information on people smuggling networks and identifying vulnerable groups'. Apart from the Moldovan operation, in January 2023 Frontex signed an agreement with Ukraine's State Border Guard with a grant worth €12 million for the purchase of equipment such as patrol vehicles and uniforms. As well as strengthening the EU's border with Ukraine and Moldova, this assistance 'will also prepare the State Border Guard Service to potentially host Frontex joint operations in future'. Frontex Deputy Executive Director Uku Särekanno clarified at the signing of the grant agreement that in light of the 'current critical situation at the border … supporting the business continuity of our Ukrainian colleagues is crucial, both for Ukraine and the EU'. The priorities are clear – enact agreements, even in the midst of a war, that guarantee business as usual along the EU's external borders, no matter the human costs.
Border 'Assistance' Missions in Ukraine and Moldova
In addition, in 2022 the EU has also expanded the mandate of the Border Assistance Mission to Moldova and Ukraine (EUBAM) launched in 2005 and the Advisory Mission (EUAM) dating from 2012. Both entities form part of the EU's vast array of border externalisation architecture, underpinned by bilateral and multilateral agreements. Through these agreements the EU deploys a carrot and stick approach to cajole and coerce states to control the movement of people in territories far beyond Europe's borders in a bid to stop them from ever reaching Fortress Europe. Over the past two decades the EU, through EUBAM, financed the training of the Ukrainian State Border Guard, conducted joint EU–Ukraine border patrols, and donated border security equipment to Ukraine, while the EUAM was mandated to support Ukraine in an advisory role to reform its civil security sector, including border security. Since 2007 Frontex has played a central role in implementing bilateral agreements between the EU and Ukraine.
The expanded mandate of the EUBAM and the EUAM means that EUBAM officers are now permitted to participate directly in border control, in coordination with Frontex. An additional €15 million was granted to EUBAM to recruit more staff and provide equipment and training to Moldovan border guards. Similarly, EUAM has stepped up its activities, mainly by facilitating support to border authorities in Ukraine. Meanwhile, EU-funded projects implemented by the International Centre for Migration Policy Development (ICMPD) continue, such as the EU Support to Strengthening Integrated Border Management in Ukraine project (EU4IBM).
The hypocrisy of the EU's border regime
Somewhat obscured by the EU's comparatively generous reception of (white) refugees from Ukraine, it has quietly used the war and its consequences to rapidly boost and militarise border security, with a lead role for Frontex that has seen its operational mandate expanded far beyond the EU. The outsourcing of EU border control is not new, but rather is part of a well-oiled strategy of border externalisation and should be understood in that context. In its conclusions to a special meeting in February 2023 the European Council reaffirmed plans to drastically increase the pressure on third countries to cooperate in deportations and readmissions, with Frontex playing an important part.
The EU's response to the war in Ukraine has shown that when there is political will, it can immediately and effectively create legal pathways permitting refugees to live safely within the EU. The fact that it failed do so for refugees fleeing other war-torn regions has exposed the discrimination, racism, and hypocrisy that drive the EU's deadly border regime. The EU and its member states are legally bound under international law to treat all those who seek asylum equally, regardless of the colour of their skin or their country of origin. Rather than spending pools of public money on fuelling wars and fortifying borders, the EU and its member states should instead support communities and local networks in their efforts to receive those fleeing war and violence.
Read the full article here.
Title image: Frontex officer at the Ukraine – Romania border in March 2022. Credit: Dipertimento Protezione Civile on Flickr